WELCOME TO FIRA ROBOWORLD CUP OFFICIAL WEBSITE
Latest News
Discover the latest on FIRA RoboWorld Cup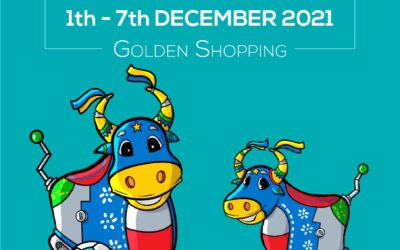 FIRA SimulCup 2021 The FIRA Robot World SimulCup, from 1st to 7th of December 2021. The purposes of organizing FIRA...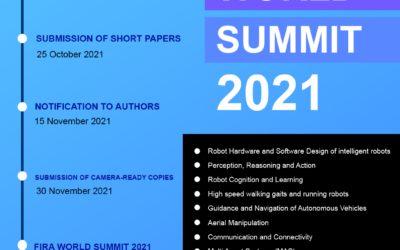 FIRA 2021 World Summit Call for paper The FIRA World Summit will be held in conjunction with FIRA Robot World...
01 – 07 Dec 2021
FIRA SimulCup 2021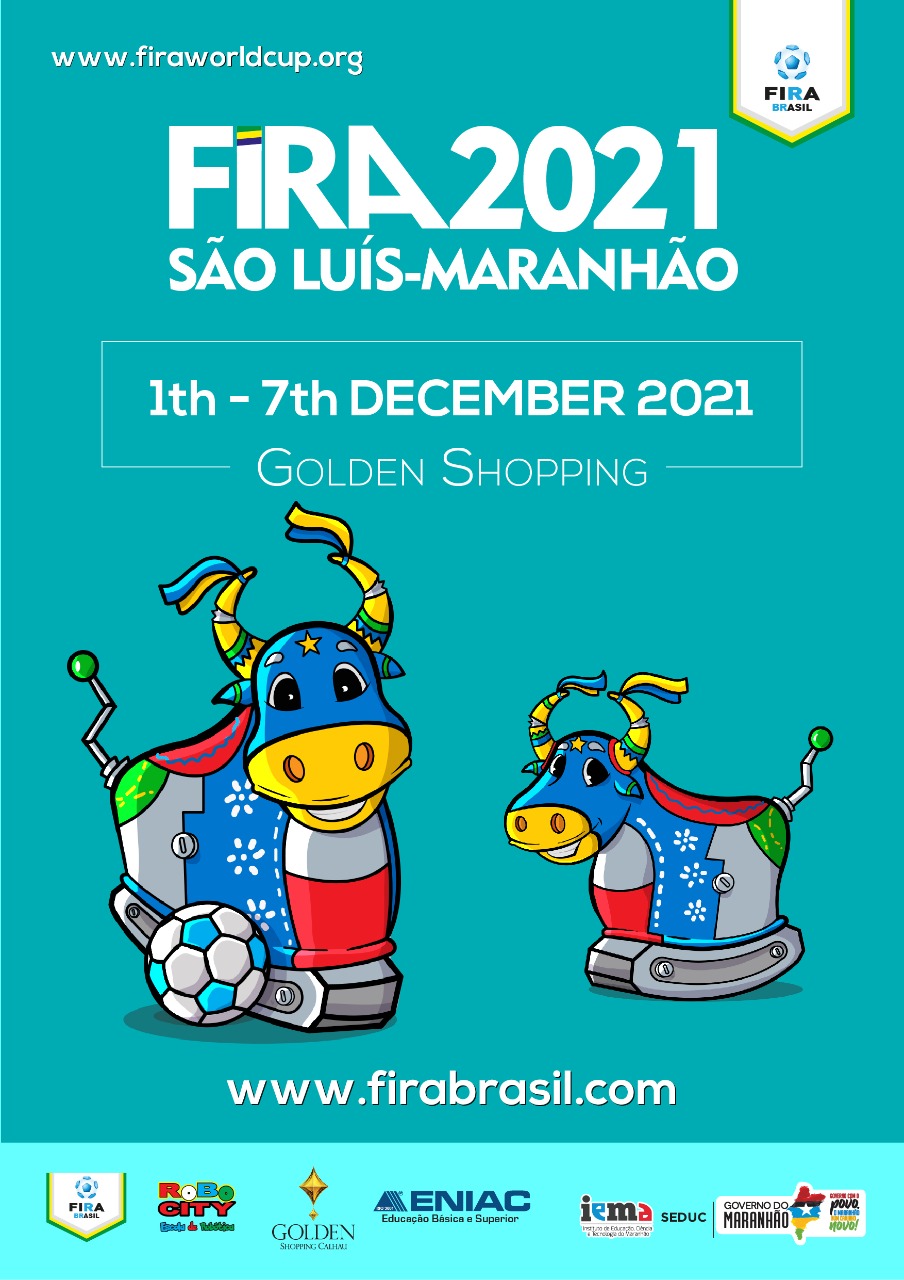 São Luís, Maranhão
Brazil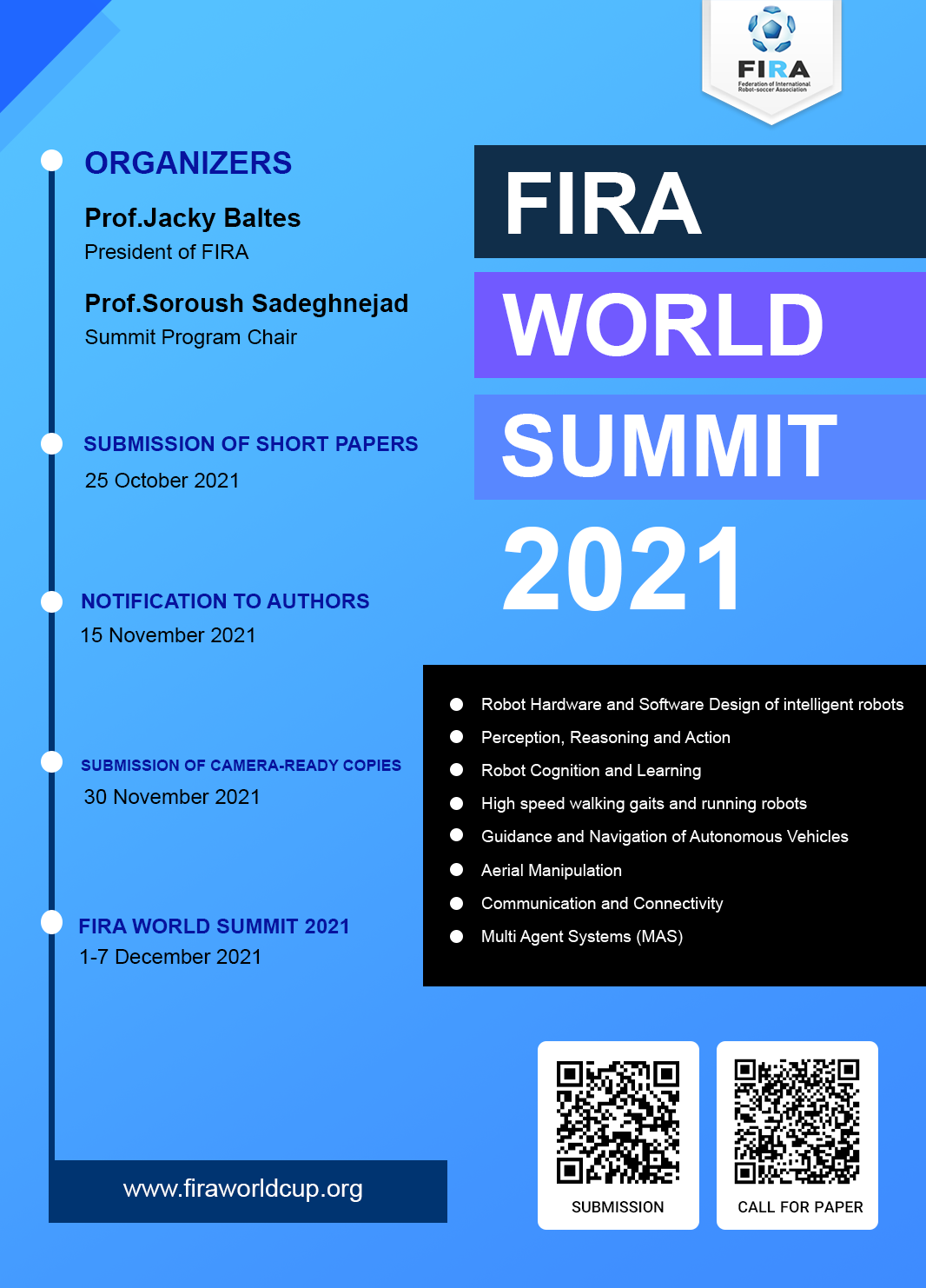 01 – 07 Dec 2021
FIRA World Summit 2021
Submission of short papers
Submission of camera-ready copies
About the Federation of International Robot-Sport Association
Robot soccer can be portrayed as a competition of advanced robot technology within a confined space. It offers a challenging arena to the young generation and researchers working with autonomous mobile robotic systems. It is hoped that FIRA's flagship event, called the FIRA Robot World Cup (or the FIRA Cup in short), which started in 1996, together with many other FIRA events, will help generate interests in robotics in the young minds.
Through these events, FIRA hopes to help them better understand and appreciate, with interests, the scientific concepts and technological developments involved. FIRA believes that some of these interests will fuel scientific and engineering skills that ultimately develop into research outcomes to serve mankind in a variety of ways.
Ever since its establishment, FIRA has had venues for its annual FIRA Cup in Australia, Brazil, China, France and Korea. Making progress over successive years since 1996, FIRA Cup has now attained world recognition as a robot festival.
FIRA RoboWorld Cup 2021 SDE
(Social Distancing Edition)
A Virtual Robotics competition was held by FIRA on 9 – 13 Aug 2021. Due to the covid-19 situation, It was not possible to have the competition in person, so instead, the competition was held fully virtual and It was a great experience.
FIRA RoboWorld Cup 2019
Changwon, South Korea
The Federation of International RoboSports Association invites new and old participants to the FIRA 2019 RoboWorld Cup and Summit in Changwon, Korea. The competition is to be held from 11th to 16th August 2019.
Leagues
Different leagues on FIRA Competitions
News & Updates
Join FIRA RoboWorld Cup Newsletter