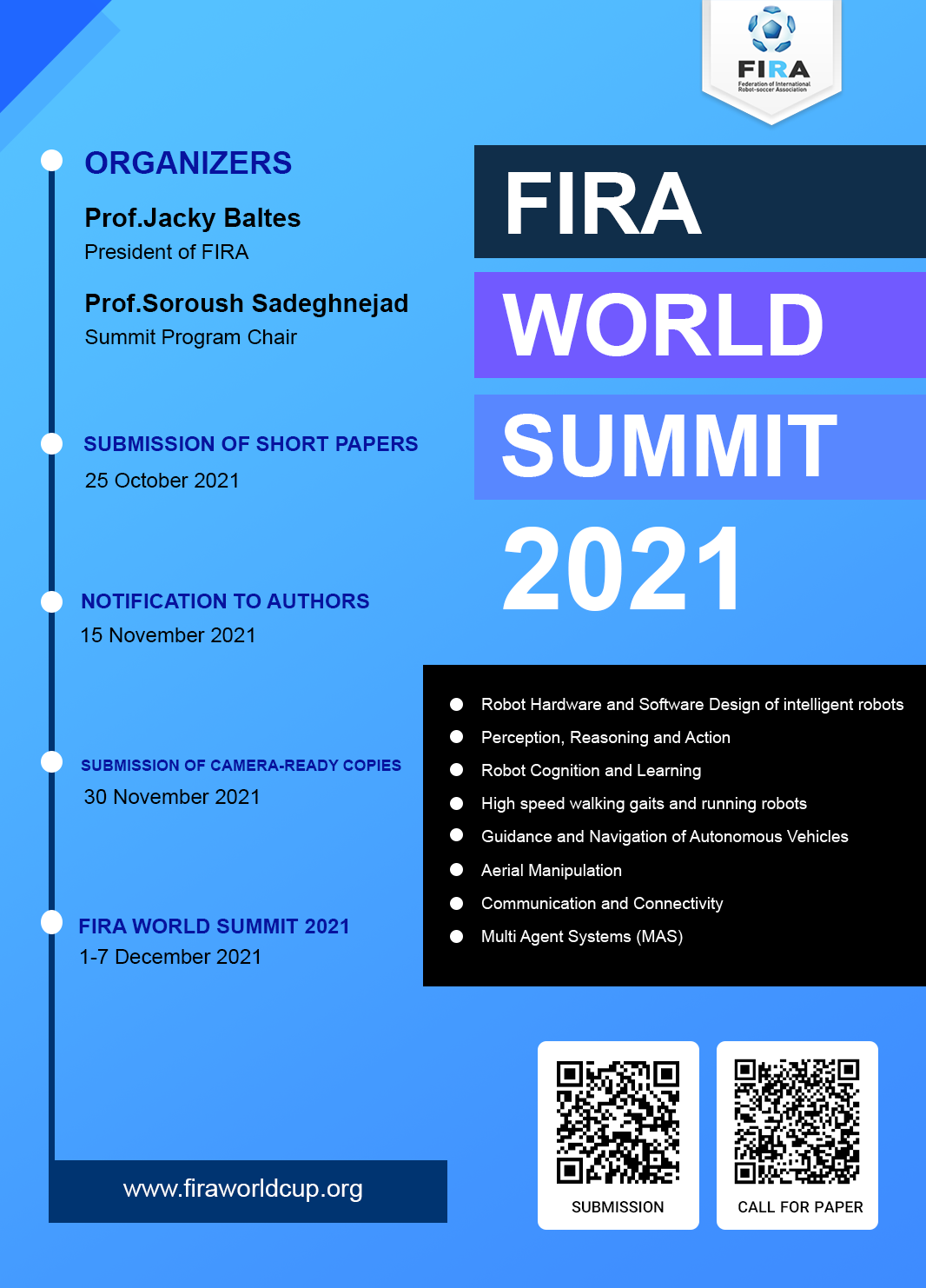 FIRA 2021 World Summit
Submission
Papers submitted should be written in English and at least two pages in single-column formats. All papers will be peer-reviewed, and evaluated by members of the senior FIRA Summit program committee.
Papers should be formatted following the LNAI author guidelines (https://www.springer.com/gp/computer-science/lncs/conference-proceedings-guidelines) and must be electronically submitted through the EasyChair electronic submission system (https://easychair.org/conferences/?conf=firasummit2021).
Selected papers will be recommended to submit to the Special Issue of the Knowledge Engineering Review, indexed in Science Citation Index (SCI) of Web of Science.
FIRA World Summit Topics
Topics of interest include but are not limited to:
Robot Hardware and Software Design of intelligent robots

Perception, Reasoning and Action

Robot Cognition and Learning

High speed walking gaits and running robots

Guidance and Navigation of Autonomous Vehicles

Path Planning and Collision Avoidance in Autonomous Vehicles

Communication and Connectivity

Multi Agent Systems (MAS)

Cooperative Guidance and Navigation

Aerial Manipulation

Active balancing, posture generators, and push recovery

Energy-efficient walking gaits for long-distance running robots High accuracy control of motions and kinematics

Complex motion planning

Human-robot interaction

High-speed object tracking

Robot personalities (Marvin, the depressed robot magician)

Labeled vision data and ground truth for localization

Team play and role assignment

Attention in perception and reasoning

Efficient architectures for intelligent sports and entertainment robots

Education, Entertainment and Edutainment
The latest online version of CFP